A-Maiz-Ing Heat Biomass/Corn Burner
Available as A Boiler Or Forced Air Unit
Biomass/Corn Boiler By A-Maiz-Ing Heat
Hold mouse over image for larger picture.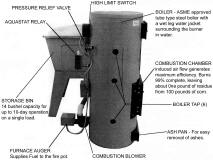 Introducing A Truly Efficient Boiler
In these times of high energy costs, it makes sense to use a heat source that utilizes a resource that is readily available and cost effective. The A-Maiz-Ing Heat boiler burns shelled corn, a renewable local commodity. Corn costs less per BTU than other heat Sources, plus benefits the local economy by generating business for farmers. The low cost of shelled corn, together with the efficient burning process of this boiler, produces an economical, ecologically safe home heating system.
Specifications 175k or 140k BTU Units
Boiler Dimensions
Height
61"
Diameter
22"
Bin Dimensions
Height
48"
Width
36"
Depth
52"
Boiler Weight
510 lbs
Bin Weight
50 lbs
Flue Pipe Diameter
6"
Fire Pot
Cast Iron
Bin Capacity
14 Bushels
Combustion Blower
60 CFM
BTU's
175,000
Clearance to Combustibles
18"
Shelled Corn Boiler PDF
Burns Clean - No More Creosote
The A-Maize-Ing Heat boiler feeds the corn into the bottom of the combustion chamber, therefore providing the most efficient fuel consumption. the residual ashes are then spilled over the top of the combustion ring into the ash pan. This process, in effect, self cleans the combustion chamber.
Safe, Comfortable Heat
Your home's thermostat electronically controls the fuel feed system to provide a constant temperature. The boiler will remain lit as long as the bin contains corn, and will shut down automatically if the fuel supply is depleted. The low stack temperature and absence of creosote buildup eliminates the possibility of chimney fires. The A-Maize-Ing Heat boiler is UL listed. The UL listing assures you of a safe and quality product.
Features
UL Listed
Boilers are ASME certified
Bottom feed cast iron burn pot
No daily cleaning. Clean once per hopper fill
Uses industry standard parts
High torque auger motor
Optional hopper extension
Optional copper feed tube
Forced Air Biomass/Corn Furnace
Specifications Models 100,000 BTU & 150,000 BTU
Furnace Dimensions
Height
53"

Width
27"
Depth
46"
Bin Dimensions
Height
48"
Width
36"
Depth
51"
Furnace Weight
440lbs
Bin Weight
50lbs

Mouseover image for larger picture

Flue Pipe Diameter
6"
Fire Pot
Cast Iron
Bin Capacity
14 Bushel
Hot Air Blower
3spd - 1/2 HP
BTU's
100,000 or 150,000
Clearance to Combustibles
18"
Shelled Corn Furnace PDF

For More Information Email