PEX-AL-PEX

Features
PEX-AL-PEX is manufactured with a welded aluminum layer positioned between two layers of PEX. The pex pipe is 100% oxygen tight, promoting longer life for pumps and all ferrous components.
PEX-AL-PEX is easy to install. The pex tubing can be laid out by hand..stays where it's put..no springing back!
PEX-AL-PEX is designed as the universal solution for both radiant (under floor heating) and potable (drinking water) applications.
PEX-AL-PEX offers quality fitting system choices for both radiant and potable applications.
quality PEX-AL-PEX is available in a variety of coil sizes of ½", 5/8", ¾", and 1" as well as straight lengths.
Certification
PEX-AL-PEX is manufactured under a quality system which meets the requirements of ISO 9001/2000 accreditation.
PEX-AL-PEX is rated for 200° F @ 100 psi
PEX-AL-PEX has been develops, tested and approved for hot and cold water potable service, central and under-floor heating systems and is approved to:
ASTM F1281
NSF 14/61 (NSF-PW)
IAPMO
ICBO – Pending
SBCCI – Pending
CL-R/CL-TD - Pending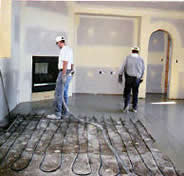 Gypcrete is shown being poured over a PEX-AL-PEX installation for radiant in-floor heating.
Advantages
No outer oxygen barrier (EVOH) – eliminates worries about abrasion, scuffing and delamination.
Advanced technology for long life and peace of mind.
High durability – rated for 200° F @ 100 psi
Resistant to corrosion, scaling and pitting
Flexibility of plastic pipe with the durability and structural integrity of metal pipe.
Aluminum layer allows for easy bending and will retain the desire shape.
Flexible enough to cable through joists, bend or snake around corners – fewer joints means less labor.
Lays down, stays down.
Lightweight coils are easy to transport, cut, handle and store.
Flexibility in fittings systems - compression fittings for radiant – "manufactured" press fittings for potable.