Lennox Wood Fireplace
Below is our most popular Lennox wood fireplace. For additional
information on this and other models. Contact
Greg at
Lennox Brentwood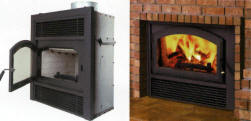 The Brentwood wood burning fireplace blends timeless beauty and impressive efficiency to offer an exceptional wood-burning unit. With advanced combustion and heat-circulating features, you can enjoy unsurpassed warmth and temperature control. The Brentwood makes the most of your wood supplies and ensures long and lasting comfort with six to eight hours of burn time. In addition to a realistic masonry-built appearance. a variety of customizable design options are available to give you the freedom to create the ideal fireplace for your home.
Standard Features
Textured refractory-lined firebox recreates a traditional masonry appearance.
Single European cast-iron door provides an unobstructed view of the fire.
Meets EPA II and Washington State emissions requirements.
55,000 Btu/hr effectively heats up to 2,000 sq. ft. with optional blower.
Airtight combustion chamber delivers maximum efficiency to ensure steady home heating.
Double air combustion features two controls that allow you to customize the heating of your home.
Efficient air wash system keeps the glass clean, reducing the hassle of maintenance.
Heat-resistant handle stays cool to the touch.
Warnock Hershy approved.
Options
Black-painted and 24-karat gold plated cast iron doors.
Clean face panel kit.
Single duct and double duct gravity lets.
Outside air kit.
Blowers.

For more information Email