Osburn Natural Gas\LP Stoves & Inserts
Sunburst Sales LLC is an authorized Osburn Distributor We carry all models. Below are our most popular Natural Gas & LP Stoves & Inserts. For more information contact Greg at:
The Brittanna 31 Stove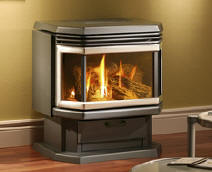 The compact Britannia 31 direct vent stove can be installed easily in any room of the house. Like its larger cousin, the vent pipe can be installed both horizontally (straight out) and vertically to suit your decor and home layout. The Britannia 31 is equipped with a powerful, ultra-quiet blower and a highly resistant stainless steel burner which design provides the effect of red glowing embers. This new addition to our range of gas stoves offers the same balance – performance and style – as all other Osburn stoves.
Features
Maximum input 31,000 BTU (LP and NG)
Minimum input 24,000 BTU (LP) or 21,000 (NG)
Steady State Efficiency 75.3% (LP and NG)
Variable speed control blower
Options
Programmable remote control
Wall thermostat
B-vent adapter
Decorative flue collar; gold or brushes nickel plated
Door, plover and trivet; painted black, gold or brushed nickel plated
The Saturna Insert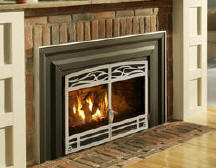 The redesigned, improved Saturna direct vent gas fireplace insert is back at last! Its flame pattern has been described as one of the most realistic and attractive on the market, and the new firebox panels have been carefully deigned to provide a realistic stone fireplace effect. The Saturna's traditional doors are available in a range of different colors including a brand new black nickel-plated finish. The new Saturna gas insert is more than a fire – it's afire in the true Osburn tradition!
Features
Maximum input 35,000 BTU (LP and NG)
Minimum input 17,000 BTU (LP and NG)
Steady State Efficiency 64.7% (LP and NG)
Variable speed control blower
Options
Programmable remote control
Wall thermostat
Decorative door screen
Decorative doors; painted black, brushed nickel, black nickel or antique brass plated