Waste Oil Burners
Sunburst Sales LLC is an authorized Columbia Distributor we carry all Columbia Waste Oil Burner models. Below is our most popular Columbia wast oil boiler model. For more information contact Greg at:

Real Boilers built by Boiler Makers Since 1936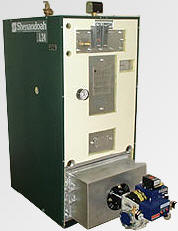 Features
Hot water or steam
Optional thankless coil for potable hot water supply
Large cleanout door for fire-side cleaning
Heavy gauge inclined water tube design
Attractive insulated jacket
Hinged burner door for easy access to fire chamber
Choice of 3 burner/nozzle combinations
Fuels
Used crankcase oil, transmission and hydraulic fluids, synthetic oils, and other petroleum based lubricants (any weight combination up to SAE 50 including #1 and #2 fuel oil)
Standard Equipment
ASME Boiler, ASME Relief Valve, Waste Oil Burner w/Primary Control, Oil Pump and Filter Kit, Installation Kit & Manual, Insulated Flush Jacket, Theraltimeter Gauge, Operating and Manual High-Limit Aquastats or Pressure Controls, Low Water Cut-Off, Cleaning Brush
Columbia L24 Models Specifications
Models L24
175/24
235/24
350/24
Waste Oil GPH (approx.)
1.25
1.68
2.5
Input BTUH (approx.)
175,000
235,000
350,000
Gross Output BTUH (approx.)
140,000
188,000
280,000
Gross H.P.
4
6
8
Combustion Volume, Cu. Ft.
6.5
6.5
6.5
Water Volume, Gals.
55
55
55
Boiler Width, with Controls
35.5"
35.5"
35.5"
Depth, with Burner and Smoke Outlet
55"
55"
55"
Boiler Height
57"
57"
57"
Flue Outlet
9"
9"
9"
Compressed Air Requirements (all models) 2CFM @ 40 psi
Operating Pressure 15 psi Steam, 30 psi Water
Total Shipping Weight (approx.) (all models) 1,800 lbs.
Electrical Requirements (all models) 115/60 15 Amp (220/50 7.5 AMP also available)
Optional equipment
Oil Storage Tanks, Hydronic Unit Heaters *Water Coil is an option and must be ordered separately.
Agency Listings
(all models) ASME stamped, ETLM listed (per UL 796, UL 296A, NFPA 31, 70 and 211)