Endurance F50 By Fahrenheit Technologies
Endurance 50F
The endurance 50F, a highly efficient biomass furnace by Fahrenheit Technologies, operates as a stand alone forced air furnace, add-on furnace or as a stove. A combination of Engineering excellence and patented technologies come together providing for years of state of the art home heating comfort.
Technology
Thuroheat™ technology ensures maximum heat transfer and minimal heat wasted. Cyclean™ is a self cleaning fire pot which minimizes cleaning requirements and insures an uninterrupted fire. These two technologies combined with the programmable LCD control make the Endurance 50F a pleasure to own and operate.
Multi-fuel Biomass Furnace
The endurance 50F burns dried corn, wood pellets, grain pellets, cherry pits, and more. With this fuel source flexibility, you're free to burn the most cost effective biomass fuel available at the time. Learn more about biomass at the US Department of Energy.
Endurance 50F Specifications
Fuel
Shelled corn, wood & grain pellets, cherry pits and other biomass fuels
Hopper CApacity
112lbs
BTU/hr Range
0-50,000
Electrical
115v 60hz, 4amp
Combustion Air Collar
2 1/2"
Exhaust Collar
3"
Blower
Two speed 600/800
Dimensions
40"H x 20"W x 36"D
Weight
380lbs
Fully automatic operation
99% combustion efficiency
Stainless steel heat exchanger and fire pot
Hopper extension available
Endurance 50F Brochure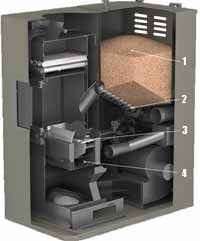 Large hopper holds 112 lbs of the biomass fuel of your choice.
Fuel Mizer automatically shuts of fuel supply when no heat is needed and restarts when heat is called for.
Stainless steel fire pot burns biomass fuels.
Auto start electronic ignition makes operation a breeze.
Sunburst Sales LLC is an authorized Endurance Distributor.
For more information contact Greg at