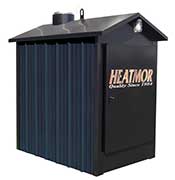 Heatmor Residential & Commercial Outdoor Furnaces
Have a smaller home or heating load requirement? Try the 100 CB outdoor stainless steel furnace by Heatmor. Designed to last three times longer than mild steel brands. Call Greg at 920-420-3399 for availability and installation services.
100 CB Key Features:
Heats 3,000 sq ft area
Stainless construction
85 gallon water tank
Limited lifetime warranty
Nature's Comfort GT-6000 Outdoor Down Draft Boiler
Are other wood furnace manufactures and installers NOT living up to your expectations?? Purchase the GT-6000 from Sunburst Sales and get peace-of-mind for years to come!
The GT-6000 is a three stage down draft wood burning boiler utilizing high temperature gasification and a honeycomb catalyst filter... READ MORE
Call Greg at 920-420-3399 for availability and pricing.
The GT-6000 outdoor wood burner features:
Little or no smoke – clean air!
High efficiency wood burning – Uses less wood to heat your home.
Less ash and less cleaning.
Less time spent loading wood.
Environmentally friendly
PSG Caddy Wood Combination Furnaces & Pellet Furnace
The PSG Caddy wood furnace series is capable of duel fuel operation when the optional fuel oil burner or electric elements are purchased.
Three popular versions of the PSG Caddy furnaces are the:
Caddy: a 140,00 btu wood/oil/electric model.
Max Caddy: A 180,000 btu wood/oil/electric model.
Caddy Alterna: A high efficiency (90%) pellet or biomass pellet burning furnace.
Read more about the PSG Caddy wood furnaces.
We Are Radiant Floor Specialists
Sunburst sales specializes in commercial, farm and residential radiant floor design and installation. We have the experience and knowledge to get the job done right. Want warm comfortable floors in your home, business, garage or basement let sunburst sales design and install a high efficiency state of the art radiant floor system for you.
Service - Selection - Satisfaction
Selection
Wood Burners - Outside Woodburner - Pellet Stoves - Wood Furnace - Natural Gas Furnace - LP Furnace - Electric Heating - Waste Oil Burner - Solar - Biomass Burners - Radiant Floor Heating - Alternative Heat Solutions - Pellet boilers - Wood Boilers and more!
Sunburst Sales Carries:
Aqua-Therm Parts
A-Maiz-Ing Heat
Bosca wood and pellet stoves
Columbia waste oil burner
Creat-Heat radiant floor panels
EcoTeck ducted pellet stove
Empire Mantis natural gas stove
Glow Boy pellet stoves
Lennox pellet stove
Louisiana Grills & Smokers
Nature's Comfort wood burning boilers
Osburn wood, pellet, LP and natural gas stoves
PSG Caddy series wood, oil, electric, pellet combination furnace
Royall wood boilers
Weil-McLain LP boiler and natural gas boiler
Service
Twenty below zero and your boiler goes out, no problem. We are available day or night seven days a week for emergency service calls. Service parts are in stock and available for 99% of the products we carry. Our goal is to have what you need when you need it.
Do you need parts and/or a high efficiency design solution for a boiler you've already purchase? Sunburst Sales provides the highest quality parts and design services, guaranteeing years of trouble free operation. Radiant floor heating is known by many names like: Floor heating, under floor heat, in floor heating, hydronic heat, radiant heat, floor heater, comfort heating, radiant floor heat etc. Rest assured we can service or upgrade any system you have installed. We are your Wisconsin Dealer for Radiant floor, Wood Furnaces, Outdoor wood boilers, pellet stoves and more.
Satisfaction
Your satisfaction is our top priority. We will work with you on any project, large or small, providing quality installations of wood burning boilers, pellet stoves, outdoor woodburners or any heating project requiring our assistance.
Want to tackle most of that project on your own, but need some help with certain aspects of the job, no problem, we're here to help when you need us. We pride ourselves on delivering top quality products and design solutions to all our customers, year round!.
Family Owned & Operated Since 1997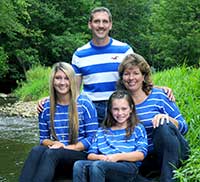 Greg and family 2012.
Sunburst Sales LLC is your source for wood heating equipment and supplies, located in Ripon Wisconsin.
Calculate Your Wood Burner Payback Time
Sunburst Sales LLC can help you calculate the approximate payback time for your new outside wood furnace or other heating system. Use the pay back time calculator to determine the approximate time needed for your wood furnace, wood burning boiler or other heating system to pay for itself.