Nature's Comfort Wood Burning Boilers

The Professional Choice!
How Does the Wood Boiler Work?
The interior workings of the outdoor wood boiler consist of a firebox, and within the firebox is a chimney, grates with a powered blower that forces air up into the fire for a greater and more efficient burn. Wood is loaded into the firebox the same way as a traditional fireplace.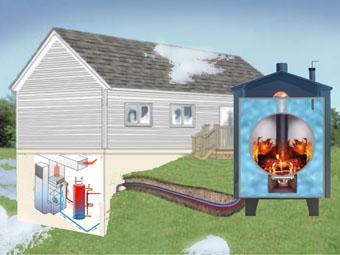 Surrounding the firebox is at least a 120 gallon water jacket. The wood is burned in the firebox, by turning the fan on and blowing air in back bottom under grates and into the fire box. This additional air burns wood at an accelerated rate until the set temperature in the water jacket is met at 160 to 180 degrees. If the home has no call for heat the unit will not run.
A pump at the back of the outdoor boiler sends the heated water in a continuous loop to the house through an insulated PEX line to a heat exchanger in your furnace and the water heater inside your home, then back again for reheating.
Additional connections may be made to heat a pool, sauna, hot tub, garage, barns, greenhouses, and other buildings. For this, a second pump would be installed and a second set of PEX lines would be connected to the outdoor boiler Insulation surrounds the water jacket so that the water temperature is not compromised by weather.
The firebox is surrounded by water along with the ash pan and a portion of the chimney as well, extracting as much heat as possible from the red hot coals and gases. The chimney protrudes down into the firebox about one foot from the bottom preventing gases from quickly escaping out the flue. This creates a second burn sequence burning the gases and wood more efficiently.
Forced Air Furnace and Water Heater
working with the Nature's Comfort Outdoor Boiler

Direct Plumbed Boiler
working with the Nature's Comfort Outdoor Boiler

Boiler with Baseboard Heat
working with the Nature's Comfort Outdoor Boiler
End of Season Boiler Shutdown Checklist
Allow fire and coals to burn out and cool down to ambient temperature. Clean out all ash, soot, and creosote from firebox, ash compartment, and flue pipe. This is required to be done on a frequency depending on burn practices, heat demand, and fuel quality. A combination of ash and moisture will quickly eat up your stove. Use of a shovel putty knife and wire brush to scrape and remove all creosote deposits. When scraping out ash and creosote, make sure to get the spot just behind the fuel door opening. Most customers miss this in their daily ash maintenance and is the highest risk for a leak to occur. Coat inside of firebox with light coat of motor oil or Use new or used motor oil, not WD-40 to coat and protect the steel as WD-40 is a penetrate, not a lubricator. Use a sprayer or brush for corners, and or a roller for large areas If extended flue pipe and rain cap have been installed then remove, clean, and re-install at least the rain cap on the steel flue extending out of the top of the wood/coal boiler to keep rain water out of the firebox but vented for condensation to evaporate. Do not leave uncovered.
Oil door hinges and latch. Perform door gasket seal maintenance on firebox and ash compartment doors adjust on hinge side to get a better seal or replace the gasket if it is hard it will not seal any more. For more specific information see V. Maintenance section of your operating manual. Download the most current version for the most up-to-date information. Leave ash pan and fuel door open a crack just enough for air to flow so as to keep condensation from occurring but not so much as to allow rain in.
Jacket water testing and treatment: This is the perfect time to have your wood boiler jacket water tested for nitrite level. Remember that annual nitrite testing is required to satisfy the warranty obligation. Refer to the warranty on Nature's Comfort web site for current information. If inspection of your jacket water (usually taken from the pump bleeder screw) shows that it is not crystal clear, then drain, thoroughly flush until clean and refill with softened water and a fresh dose of NC water treatment or wood boiler 101. Do not drain and flush if water is clear as new water will have new minerals to fall out of suspension and create scale or sludge linings/deposits. If you do need to drain and flush your system, do not allow your unit to sit empty as oxygen exposure to the water jacket metal will cause oxidation and corrosion. The water jacket must remain full of properly treated water at all times after installation save for the draining, flushing, and retreating procedure. Circulate with water pump for several hours to completely mix new water and new NC water treatment then send a sample to your dealer or Nature's Comfort to analyze for nitrite level. Target level for nitrite is 1000 – 1500 ppm. 500 ppm is the minimum level required for warranty to remain valid. If you are below the 1000 ppm level then you need to add more treatment solution to have a proper buffer.
Top off your water jacket with additional make-up water and overfill into the float stack to displace air. Air space leaves the jacket exposed to oxygen and increases the potential for corrosion. Leaving a ½" to 1" air gap during heating season is required and ok to allow for expansion room and steam to escape so the float doesn't get blasted out by any potential boiling from improper operation and the steam also contains the treatment to protect the steel while in operation but does not do so when shut down for the summer and an air gap is left. By adding make-up water to the top of the float column you will displace the air and seal the jacket. Replace rubber cap. Remember to leave your water circulation pump on for a several hours after adding the water to allow it to mix so that water is evenly treated with Boiler Treatment.
Flush your circulation pump bearing by removing the bleeder screw before turning the power off. Unplug circulation pump or disconnect power from the controls. NEVER leave the supply valve closed if a pump is installed as someone might unknowingly restore power and the pump will fail.
Inspect caulking on roof around chimney and the float stack, lifting hook, and front doors. Replace or repair as necessary to maintain weather tight seal. If this leaks it will rust the stove out from outside in. (this must also be done during the heating season).
If you have a water-to-air heat exchanger coil in a forced air system for your house then remember to drain the coil before turning on your house A/C system to avoid potential damage to coil tubes as a result of freezing.
Put a valve at the top of the sidearm domestic side and close to prevent a cold shock when using hot water. Some customers may have cold water short cycle through the sidearm instead of slowly traveling up through the tank and this resolves that. Close any one of the valves in the loop of your wood boiler AFTER the pump. This will eliminate the potential of reverse thermo siphoning thus wasting your domestic water heater propane/electricity during the summer (i.e. your water heater heating your wood boiler). A temperature monitor would tell you if that was occurring if you have one installed.