Osburn Pellet Stoves
Sunburst Sales LLC is an authorized Osburn Distributor we carry all Osburn models. Below are our most popular Pellet Stoves. For more information contact
Greg at:
Osburn pellet stoves add a touch of style to any decor while helping reduce your winter heating bills. Don't wait until the snow falls - pellet stove supplies are tight this year do to high energy costs and customer demand.
5000 Pellet Stove
Hybrid-45MF Pellet Stove
Hybrid-35MF Pellet Stove
Hybrid-35MF Pellet Insert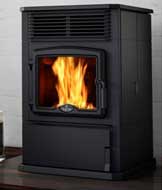 5000 Pellet Stove
| | |
| --- | --- |
| Model Number: | OP00050 |
| Max Heat Output: | 50,000 BTU/hr. |
| Min. heat output: | 8,500 BTU/hr. |
| Hopper capacity: | 70 lbs |
| Exterior Dimensions: | 23 5/8"W x 31 7/16"D x 35 13/16"H |
Options
Brushed Nickel door overlay
Gold Plated door overlay
Fresh air kit
Remote controls
4" basement venting kit
5000 Stove Features
Variable heat setting levels
Heating Area sq. ft. : 750 - 2,400
Optimum efficiency : 78%
Mobile home approved
Metallic black color
Electronic ignition
Thermostatic or manual mode
Easy-to-access ash drawer
Approved on 3" or 4" vent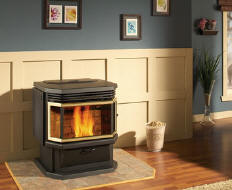 Hybrid-45MF Pellet Stove
| | |
| --- | --- |
| Model Number: | OP00045 |
| Max Heat Output: | 45,000 BTU/hr. |
| Min. heat output: | 8,200 BTU/hr. |
| Hopper capacity: | 60 lbs |
| Exterior Dimensions: | 27"W x 25.5"D x 30.5"H |
Options
Black, gold or brushed nickel plated door overlay
Black, gold plated or brushed nickel plated louver kit
Decorative log set
Decorative masonry-like panels
Fresh air kit
Remote controls
3" ground floor venting kit - 4" basement venting kit
Sealing box for fresh air kit
Hybrid-45MF Stove Features
6 heat settings
Maximum combustion time up to 45 Hr
Electronic ignition
Automatic or manual adjustment of combustion air supply
Digital wall mounted thermostat included
Full size ash drawer
Safe and removable handle
Approved on 3" or 4" vent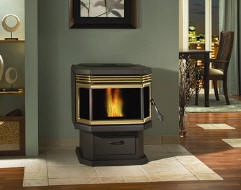 Hybrid-35MF Pellet Stove
| | |
| --- | --- |
| Model Number: | OP00045 |
| Max Heat Output: | 45,000 BTU/hr. |
| Min. heat output: | 8,200 BTU/hr. |
| Hopper capacity: | 60 lbs |
| Exterior Dimensions: | 27"W x 25.5"D x 30.5"H |
Options
Black , gold or nickel plated door
Black , gold or nickel plated louver kit
Decorative log set
Decorative masonry-like panels
Fresh air kit
Remote controls
3" ground floor venting kit - 4" basement venting kit
Hybrid-35MF Stove Features
6 heat settings
Maximum combustion time up to 25 Hr
Electronic ignition
Automatic or manual adjustment of combustion air supply
Digital wall mounted thermostat included
Full size ash drawer
Safe and removable handle
Tested by OMNI per CSA/UL/ULC standards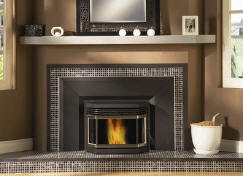 Hybrid-35MF Pellet Insert
| | |
| --- | --- |
| Model Number: | OP00035 |
| Max Heat Output: | 35,000 BTU/hr |
| Min. heat output: | 8,200 BTU/hr |
| Hopper capacity: | 35 lbs |
| Exterior Dimensions: | NA |
Options
Black, gold or brushed nickel plated door overlay
Black, gold plated or brushed nickel plated louver kit
Decorative log set
Decorative masonry-like panels
Fresh air kit
Remote controls
3" ground floor venting kit - 4" basement venting kit
Sealing box for fresh air kit
Hybrid-35MF Insert Features
6 heat settings
Maximum combustion time up to 25 Hr
Electronic ignition
Thermostatic or manual mode
Automatic or manual adjustment of combustion air supply
Digital wall mounted thermostat included
Safe and removable handle
Tested by OMNI per CSA/UL/ULC standards