Solar Hot Water Heating Systems & PV Solar Panels
Click here for Solar Photovoltaic Panels - Convert solar energy directly to electricity.
Nature's Comfort SunMor Solar Heating System
Our panels use energy collection and transfer methods that are among the most effective and cost efficient designs available using vacuum insulated, solar collector bulbs that are over 95% efficient in solar energy collection.
Multiple SunMor collectors may be combined in series or parallel configurations to suit various heating requirements (A 60 tube collector will heat up to 150 gallons of water). SunMor Collector designs are available for use with or without a supplemental heating source, such as an outdoor wood boiler.
SunMor Solar Collector Benefits
Start saving on the first sunny day
Expandable - Need more heat? Just add more tubes!
No pump required when hooked up to our boiler (works by heat siphon)
Can run off 110vac or 12vdc pump using a solar panel
One SunMor-60 can produce up to 72,000 btu per day!
Rapid payback time - can pay for itself in just a few years
Use less wood. coal, LP, natural gas, or electricity
A typical hybrid heat system combining an outdoor boiler, SunMor solar collector and domestic hot water
Current temperatures from the SunMor test facility. Similar to the system in the above photo.
Latest Temp
Average Temp
Max Temp

Sensor 1

- Solar Hot Water Input to Boiler
xx
xx
xx

Sensor 2

- Domestic Input to Sidearm Heat Exchanger
xx
xx
xx

Sensor 3

- Domestic Outout From Sidearm Heat Exchanger
xx
xx
xx
Solar Panel
Hot Water Gal.
Price
Sun-Mor SH-60
120
$2095.00
Sun-Mor SV-30
60
$2265.00
Note: The Sun-Mor SV-30 comes with a 67 gallon tank and 50 feet of copper coil and fill tank.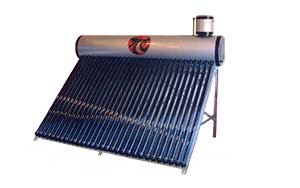 SM-V30 Solar Hot Water Heater
Use a SunMor SM-V30 for your domestic hot water requirements. Using energy form the sun you can save up to 100% on your hot water bill!
SM-V30 Benefits
Simple, reliable design
Inside water heater not requited
Install anywhere
Non-pressurized
No pumps needed
No controls needed
Integrated storage tank with automatic fill
American Inventors Mike and Dave Nyhof Produce The First Hybrid Solar/Boiler System
On November 20, 2010 Mike Nyhof of the USA invented the concept of combining solar and solid fuel by putting a firebox inside a solar water tank which eventually led to the SunMor Solar System. Combining solar energy with solid fuel to heat water, the first hybrid system was born. The solar system takes advantage of the sun during non-heating months to heat domestic hot water and assists solid fuel burning for heating a structure in the remaining cold months. Mike's brother Dave, owner of Nature's Comfort LLC, was already building wood and coal boilers which offered a perfect opportunity to work together to produce solar/solid fuel water heater hybrid. Their goal was to find the most cost effective and efficient results, giving customers endless hot water and cutting down the use of solid fuel. Combining the two using thermo-siphon for circulation worked the best with several great advantages and also solved a number of other issues including eliminating the need for a pump, controls, overheating problems and low water issues. Using the best triple coated evacuated collector tubes with our high efficiency boilers was an idea America was in need of. The SunMor SM-H60 (60 tube panel paired with a NCB-120 or NCB-175) hit the market July 12, 2011.
Solar Photovoltaic Panels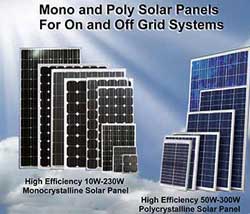 Save money by using the limitless energy of the sun! Our 'Modular Design' PV panels allow for fast and simple adding of new panels. This makes possible an incremental approach to switching to solar. For example: you may wish to start with 1kw of panels on your system and add another 1kw in 6 months.
Looking for a grid or off-grid system?
Whether you are looking to charge a battery or install a complete system for your home or business: we can design a system that will give you the quality, price and benefits you are looking for.
Key system features include:
Class-leading power tolerances ensure maximum energy is delivered every year.
Withstands the harshest of weather conditions, including hail.
High quality aluminum framing, which is fast and easy to install.
Modular system design allows for easy future expansion.
Efficient UL approved grid-connect inverters available.
Find solar PV tax incentives for your area here.
Estimate of how much you can save using solar.

For application information on SunMor solar collectors in Wisconsin
Contact Greg at